Warum
GadgetSucht
und
TabletPCErfahrungen
machen.
Daten/Offizielle Seiten
Prozessor: Pentium 4 Mobile, 1Ghz
RAM: 512 MB, erweiterbar bis 2 GByte
Harddisk: 80 GB (default 40 GB)
LAN 10/100 Mbit/s, Modem 56kbit/s, WLAN 802.11b oder 802.11bg
2 USB 2.0, 1 VGA, Mic, Audio, Infraroot, Bluetooth
OS: Windows XP Tablet PC Edition
Treiber
Software
Microsoft
Applikationen Dritthersteller
ArtRage is a free painting package that lets you play around with realistic painting tools in a simple, intuitive environment. ArtRage lets you paint your own picture from a blank canvas, or load an image to 'trace' using any of its painting tools, letting you recreate your own images as paintings.: http://www.ambientdesign.com/artragedown.html
Tools Dritthersteller
Treiber
Wacom Treiber für Tablet PC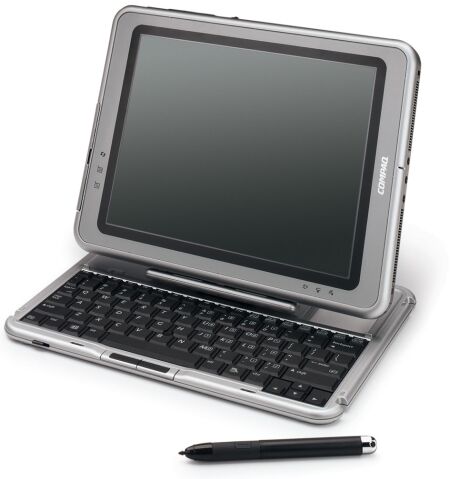 Update auf Windows XP Service Pack 2
Das Update hat ohne Probleme funktioniert. Manchmal war für 3 Minuten ausser einer Sanduhr nichts zu sehen oder zu hören, aber danach gings weiter.
Folgende Details funktionieren nach dem Update nicht mehr:
Einstellen der Helligkeit mit der Scrolltaste im Q-Menu: Funktioniert unterdessen, keine Ahnung warum...
Checkerboard-Video-Problem
Beschreibung:
Beim Booten erscheinen lauter Garbage-Zeichen auf dem Bildschirm. Scheint ein häufiges Problem mit alten TC1100 zu sein: